Journey: Central station to hotels

B & B Hotel Bielefeld
Europa Platz 2, 33613 Bielefeld
+49 (0) 52130433 - 0

Leave central railway station in opposite
direction of platform 8. Walk up
the stairs and turn right.
After 200m, the B & B is to your left.

Golden Tulip
Waldhof 15, 33602 Bielefeld
+49 (0) 521 52800 - 0

From main railway station tram stop: take tram no. 1 direction
'Senne' or tram no. 2 direction 'Sieker'. Get off at 'Landgericht'.
Walk back to street "Am Bach", turn left, after ca. 300m, Golden Tulip is to your right.

Arcadia Hotel Bielefeld
Niederwall 31-35, 33602 Bielefeld
+49 (0) 521 5253 - 0

From central railway station tram stop: take any tram
direction 'Sieker', 'Senne', 'Stieghorst'
or 'Rathaus' and get off at 'Rathaus'.
The Arcadia Hotel is to your left.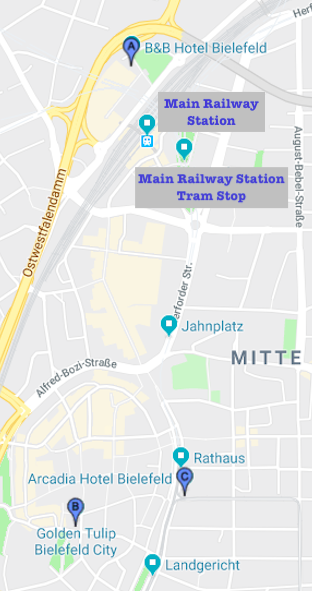 Journey: Hotels/central station to University main building
To use the public transport in Bielefeld you are best off buying a 4-ticket (4 rides in 'Preisstufe 1', which is valid all over Bielefeld). Please find a journey planner at the very bottom of the page.

Golden Tulip
Walk to tram stop 'Landgericht' and take either green tram line 2 (direction 'Altenhagen') or blue tram line 1 (direction 'Schildesche'). Get off after one stop at 'Rathaus', or, in case of rain, underground at 'Jahnplatz' or 'Hauptbahnhof'. Continue as listed below.
Alternative: Walk an additional 3 minutes to tram stop 'Rathaus' and continue as listed below.

Arcadia Hotel and B&B Hotel
Take the red tram line 4 (direction 'Universitat/Lohmannshof') from either
'Rathaus' (departure from 'Arcadia')
'Jahnplatz'
'Hauptbahnhof Stadtbahnhaltestelle' / Central station tram stop (departure from 'B & B')
and get off at 'Universitat'. Follow the crowd up the escalators. Once inside the main building, continue following the crowd up the stairs (one floor). Inside the main hall of the main building, turn right. After ca. 50m, lecture Hall 5 is on your right hand side.




Journey: University main building to Conference Dinner at Restaurant Rosenhof
You are welcome join us on the walk to the conference dinner. Below, you find a map of the way.
Restaurant Rosenhof, Wiegandweg 49, 33619 Bielefeld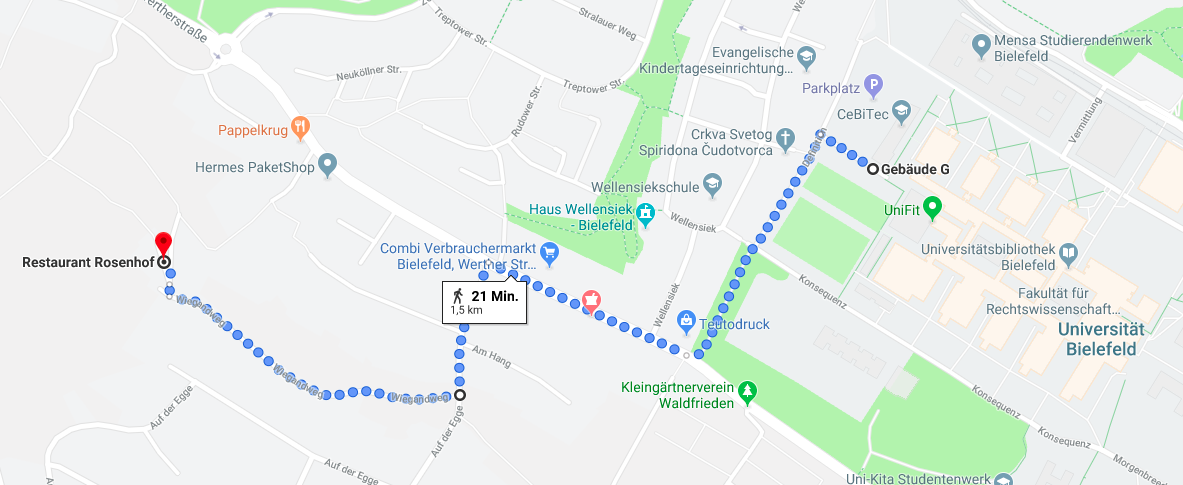 Here you can check when your connection is going to depart:
Simply add your stops and click 'anfordern'.